A supreme response from Liverpool, a raucous match at Anfield – but still not a great night for the actual excitement of the title race.
It is reflective of how this season is going that, despite Chelsea dropping a lead to also drop points and Diego Costa having a 77th-minute penalty saved in a redemptive moment for Simon Mignolet, they still extended their lead at the top by a point. That was down to Arsenal rather than a resurgent Liverpool, who can seek some comfort out of a night filled with engaging controversy.
On the last day of January, they still couldn't win in what was a generally miserable month, but this 1-1 draw at least saw life flow back through the team again.
That was all the more impressive because it looked like a bit of quick-thinking from David Luiz could also kill off their season all too quickly, as the Brazilian caught a flat-footed Mignolet out with a brilliantly innovative free-kick. Giorgino Wijnaldum brought Liverpool back into the game with a second-half header, before Mignolet kept his own head – to maybe keep his place in the team – with a penalty save that made up for so many errors and could mark a turning point.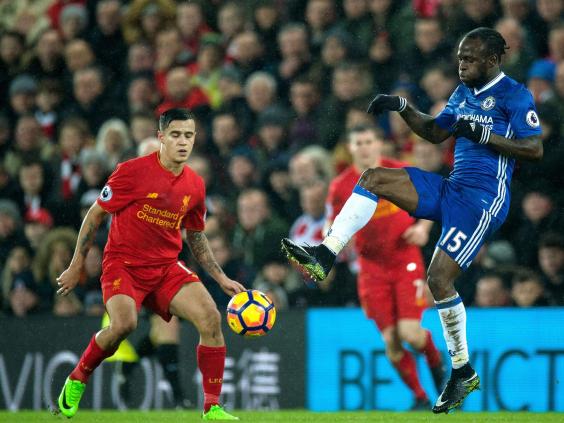 Liverpool did start with the type of energetic performance that had been so lacking for pretty much all of 2017 since the New Years Eve win over Manchester City, and that had been so required after this poor run. They were pressing Chelsea aggressively, and forcing Conte's defence right back around Thibaut Courtois's goal. Giorgio Wijnaldum brought a brilliant save from the Belgian with one long-range strike, amid a few anxious moments for the league leaders. It seemed to say so much about the readiness of the two sides for this game when Philippe Coutinho caught out a hesitant Nemanja Matic about 10 yards into the Chelsea half – but ended up meaning little.
The lingering question in all of this was whether Conte had calculatedly got his side to sit back – in the manner of one famous clash between these two sides in the recent past – and was merely willing to let Liverpool come at them all too aggressively, to try and then catch them out.
Whatever the actual truth of that, there was certainly plenty of calculation to Luiz's 25th-minute goal.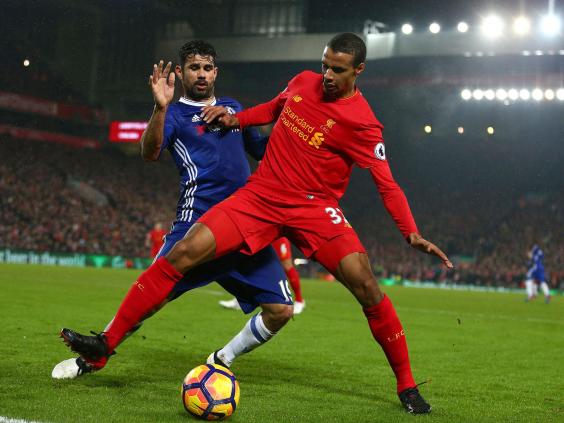 It's remarkable now to think he has been accused of being headless. Here, the Brazilian showed more presence of mind than anyone on the pitch, and certainly Simon Mignolet. As Willian sized up the shot and the goalkeeper looked to shape his wall after Eden Hazard went down rather easily on the edge of the Liverpool box, Luiz suddenly ran through for a quick free-kick and thumped it in off the left-hand post.
Mignolet was left stranded, and his team left having wasted a lot of energy for nought.
The goalkeeper was at least a little more alert to turn away a dipping Willian set-piece moments later, but Liverpool had by then gone much flatter.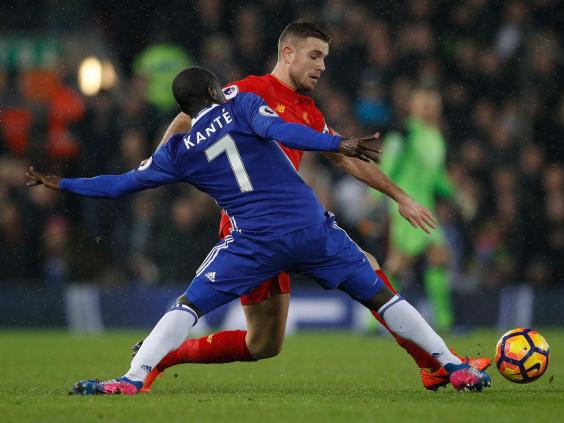 They could have done with Roberto Firmino keeping his shot just after half-time a bit flatter, as the Brazilian squandered what was probably the chance of the game, in one of the moves of the game. The effervescent Coutinho gloriously backheeled the ball into the oncoming Nathaniel Clyne's pass, as he burst into the air only to be supremely challenged by – of all people – Eden Hazard. It merely fell to Firmino, who was left one on one with Courtois, only to leave the ball in the Anfield Road stand.
That seemed to play on Liverpool's minds even more, and led to some more clumsy moments at the back, only for Klopp's side to show the kind of mental persistence he so often talks about – and values in his sides above anything. Jordan Henderson also showed the kind of accuracy the Premier League is seeing much more often from him, as he clipped over a divine ball for James Milner. The left-back headed the ball back across goal for Wijnaldum to eventually head past Courtois.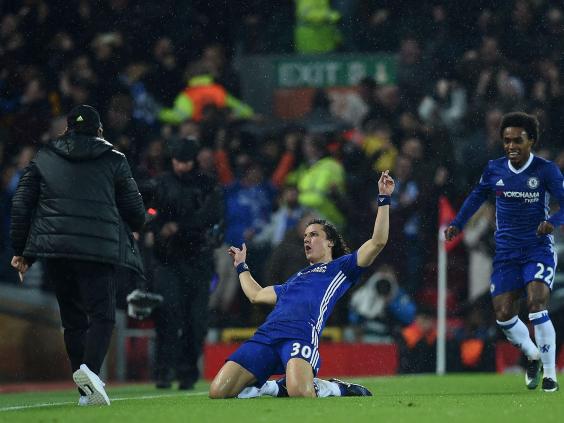 Chelsea again withdrew right back, but were this time looking that bit more fragile.
Costa certainly looked it as he went down easily under contact with Matip. Klopp was furious, Chelsea surely ready to extend their lead and kill off the title. Except, in a season when Mignolet has shown some of his worst traits, he reminded us of his best by saving his sixth penalty in the Premier League.
It was a moment of redemption – but still couldn't reduce Chelsea's lead. They go 10 points clear, and look no more likely to be stopped.
Source: The Sun.co.uk