Crystal Palace vs Chelsea match report: Diego Costa strikes to send Antonio Conte's side nine points clear
Crystal Palace 0 Chelsea 1: A strike shortly before half-time by the Premier League's top goalscorer was enough for the league leaders to pick up their eleventh straight win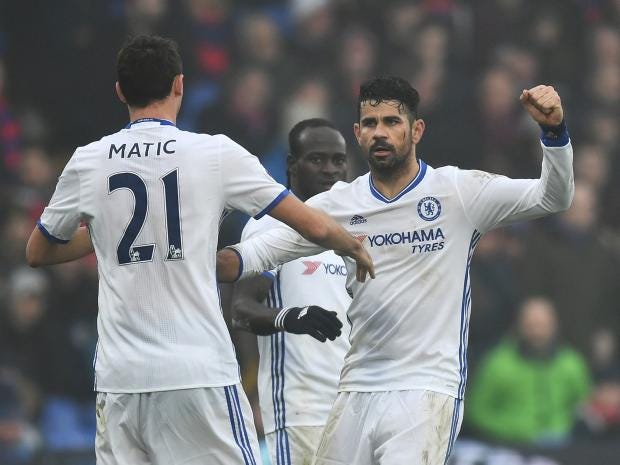 The white shirts of Chelsea were like ghosts in the south London fog but there was nothing ethereal about their football. A third one-nil on the bounce secured a club record 11th successive win to further cement their place at the Premier League summit.
Crystal Palace gave a spirited performance but once Chelsea struck through Diego Costa shortly before half-time victory always seemed inevitable. The football was for the most part prosaic rather than poetic but the leaders could have scored more goals and never looked like conceding one.
While Chelsea have secured 33 points from 33 Palace have gleaned just five. A year ago Palace were seventh and Chelsea 16th. Twelve months on Chelsea, with a new manager, are top; Palace, with the same one, on the brink of the relegation zone, which is also where they finished in May. Poor results and new owners is a worrying combination for any manager and Alan Pardew is now in grave danger. He will have been gratified to see his team show noticeably more vim and ambition than in the midweek defeat to Manchester United, certainly enough to mute any crowd discontent, but in the end they were clearly second best.
Pardew recalled Jason Puncheon and Joe Ledley. The changes sharpened Palace and the pair were involved in the 21st-minute move which should have ended with the home side taking the lead.
Puncheon, wide left, aid the ball back infield to Ledley who found Johan Cabaye. The Frenchman, vastly improved from his midweek display, rolled a perfectly weighted pass inside Marcos Alonso for the overlapping Martin Kelly to run on to. His cross picked out Puncheon arriving at speed only for the forward to skew his shot weakly wide.
Chelsea at that point had offered only a David Luiz free-kick into the wall. Antonio Conte recalled Nemanja Matic after suspension for Cesc Fabregas while Eden Hazard returned after injury. Not that Hazard was involved in a first half when Palace targeted his reluctance to tack back. Kelly, given the freedom of the right flank, set up another fine chance which James McArthur headed wide.
A breakthrough seemed imminent. The Palace Ultras banged their drums and chanted away, the Sainsbury's End opposite them raised the volume in reply. Then Chelsea struck. Wilfried Zaha was dispossessed on one flank and the ball switched to Cesar Azpilicueta on the other. His sent a high hanging cross into the fog, and when it came down Costa rose above Kelly and Scott Dann to loop a header over a fatally uncertain Wayne Hennessey. It was his 13th league goal of the campaign, already exceeding last season's tally.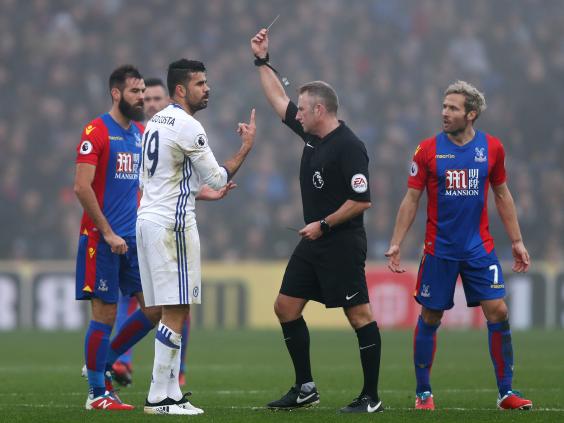 At the break Pardew reminded his men they had more than matched the leaders and Palace reappeared bristling with intent rather than accepting their fate. Cabaye stretched Courtois from 20 yards and they pressed on both flanks, seeing to get behind Chelsea's wing-backs. Given the contrasting skills of Zaha and Puncheon this was as good a test as Chelsea's remodelled defence has received in the winning run, but it withstood the examination.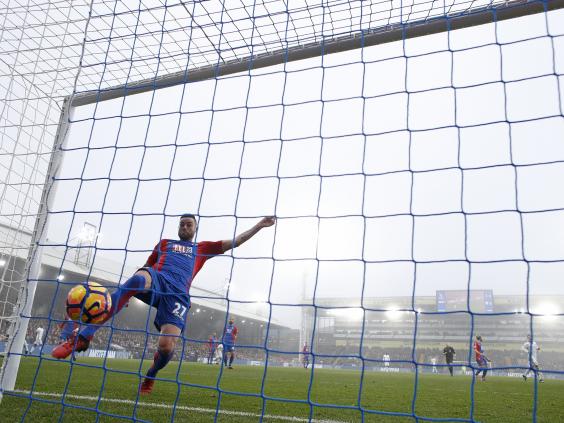 At the other end Kante had already worried Hennessey with a fizzing shot. As they stepped a gear Alonso hit the side netting and substitute Fabregas hit a scuttling shot Hennessey saved nervously. Suddenly the Welsh No.1 was busy, saving much more smartly from Kante and Fabregas as Chelsea sought to kill the game. Only the crossbar prevented then doing so with seven minutes left, Alonso whipping a free-kick against it.
Five minutes' injury time gave Palace hope. They roused themselves for one last effort. They won a free-kick in a dangerous position. But Townsend launched it into the stratosphere as if he were Andy Farrell at Twickenham and the game was done.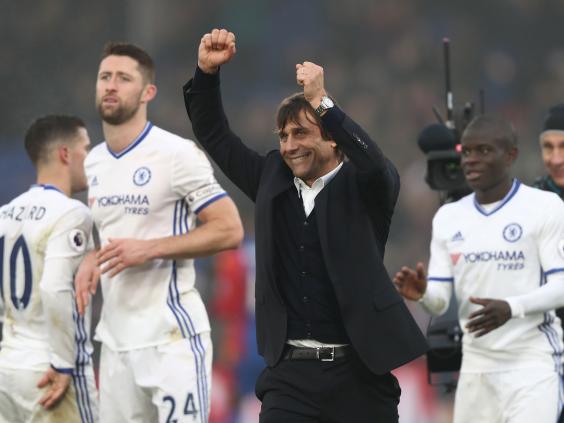 In times past this would have been the perfect day for Costa as he also picked up a booking, triggering a suspension that will rule him out of the Boxing Day fixture with Bournemouth. Modern players, however, are less inclined to over-indulge on the sherry and mince pies, and with their team playing as well as this both he and N'Golo Kante – who suffered the same fate – are more likely regret the enforced break.
Teams
Crystal Palace (4-2-3-1): Hennessey; Kelly Fryers, 83), Dann, Delaney, Ward; Cabaye (Campbell, 79), Ledley; Zaha,  McArthur, Puncheon (Townsend, 76); Benteke.
Chelsea (3-4-3): Courtois; Azpilicueta, Luiz, Cahill; Moses (Ivanovic, 79), Kante, Matic, Alonso; Willian (Fabregas, 65), Costa (Batshuayi, 89), Hazard.
Referee: J Moss
Source: The Independent Online